CHRISTMAS ORDERS
Our last posting date by Royal Mail First Class is Wednesday 21 December 2016. Although we'd hope that this would mean delivery before Christmas, we cannot guarantee this.
Any orders received after 12 noon on 21 December 2016 will be despatched on Wednesday 4 January 2017.
We'd like to thank all our customers for making 2016 such a good year for Skye Tiles – we truly appreciate your business and wish everyone a very Merry Christmas and a prosperous New Year.
Enjoy browsing our totally unique range of exclusive ceramic art picture tiles and coaster tiles, over 230 designs to choose from!

Our designs include Scottish Wildlife, magnificent Castles, and Scenery, Beaches, Boats and Lighthouses, and our new vintage poster reproductions. We have something for every taste and every room in the house, including a large range of kitchen tile and bathroom tile designs. And of course our tiles make a thoughtful and unique gift.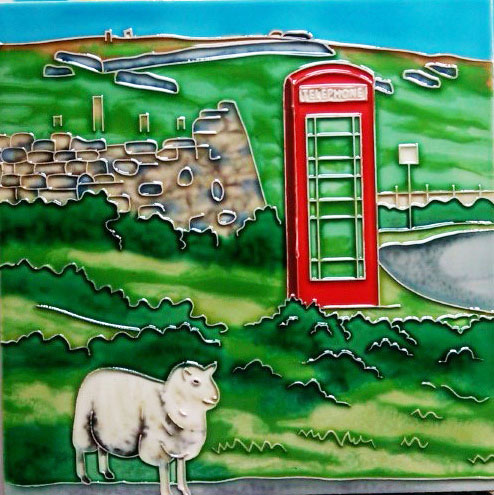 Our exclusive art tiles come in a range of sizes from a coaster size 4"x4" up to a full picture size 11"x14". They can be displayed in a number of different ways depending on the size and of course the space available. By removing the backing they can also be fixed to your wall with normal tile adhesive as a feature tile.
Make your courier delivery painless by using the Interlink PREDICT service! Just add your mobile number to the order and you'll receive a text message on the day of delivery giving you a 1 hour delivery window. Not available for the delivery? - Don't worry, you can respond to the text and reschedule the delivery at the touch of a button!
New designs just in!
Check out our Sale prices - less than half price on many sale items
If you need any further information about our tiles please email us at sales@skyetiles.co.uk
For designs with a West Country theme visit our
Fast checkout using most debit/credit cards
OR
If you prefer you can call us on 0141 631 1943 to place your order and make payment
Enter your mobile phone number on our checkout page and you'll receive a text alert 1 hour prior to your order being delivered! (for orders dispatched by Courier, as notified on the order confirmation email)

All images, designs and site content copyright ©Skye Tiles 2014 - ALL RIGHTS RESERVED